About Lucerix
Since 1986, Lucerix remains an industry leader in the production and distribution of vehicle mirror systems. We are known for our advancements in innovation and design. Partnering with our cutomer's engineering team allows us to develop products that meet their specific needs. Our in-house production can handle low-high volume requirements. Lucerix's scalable business platform is essential in ensuring that we remain competitive in a capable manner.
Lucerix mirror products comply with the Federal Motor Vehicle Safety Standards (FMVSS) in the United States, The Canadian Motor Vehicle Safety Standard (CMVSS), the Society of Automotive Engineers (SAE) for overall glass quality and reflection, and the American Society for Testing and Materials (ASTM) for salt spray and humidity.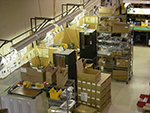 Our organizational culture promotes the ongoing enrichment of employee and associate knowledge and understanding. We continue to source reliable vendors and strategic partners to provide the very best in price and quality to our customers.
Lucerix is an ISO certified company, ISO 9001:2008. Striving to enhance customer satisfaction through continual improvement and assurance of conformity.